Recently, BSC – Binance Smart Chain has been developing strongly, attracting the investor community's attention. Especially for token swaps to the decentralized currency market and NFT in-store items that open up a wide range of options for participants. You can explore the new crypto entertainment space and invest and earn attractive profits. So what is Binance Smart Chain? Overview of Binance Smart Chain BSC includes what information to know? Let's find out with Kienthuccoin right here.
Binance Smart Chain (BSC)
Overview BSC – What is Binance Smart Chain?
What is Binance Smart Chain? Binance Smart Chain, BSC is a Blockchain platform that operates on the Ethereum virtual machine and runs in parallel with Binance Chain.
In essence, BSC clones the Ethereum Blockchain created from the blockchain by combining two algorithms, PoW – proof of stake (Proof-of-Stake) and PoA – proof of authority (Proof of Authority). This design opened up simultaneous Cross-Chain (cross-chain) compatibility from BCS, BNB, and Ethereum.
Binance Smart Chain provides users with smart contracts and compatibility with Ethereum through the EVM. The Binance Chain and BSC platforms are designed to be completely synchronized and have built-in cross-chain compatibility. With Binance Smart Chain, assets can move quickly between Blockchains, so cryptocurrency transactions are extremely fast when combined with an improved smart contract.
What is the outstanding advantage of BSC – Binance Smart Chain?
The transaction costs are affordably suitable for most participants.

The BSC network has a high performance; it can generate a block quickly after only 3 seconds.

Binance Smart Chain is an independent Blockchain featuring absolute security and safety for both users & developers.

Quality Defi Cross-Chain mechanism, which enhances Defi interoperability, supports funding and initiates multiple projects.

A potential ecosystem with millions of users to access.

BSC's interoperability between two blockchains allows users to communicate cross-chain & scale for high-performance Dapps, providing a smooth, quality user experience.

Binance Smart Chain allows live posting on mainnet – first appeared on AMBCrypto.
Binance Smart Chain (BSC)
Ecosystem Binance Smart Chain (BSC) inherits and can extend existing Dapps of the Ethereum network by cross-chain compatible Binance Smart Chain Blockchain. Currently, Blockchain projects aim to cooperate with Binance in developing Dapps. In which, some main products can be mentioned such as:
Binance Dex Swap, Binance Saving, and Binance Stake to receive rewards.

Decentralized exchange Binance Exchange.

Launchpad Token issuance platform, Trust Wallet storage wallet.

The exchange calls for funding from Binance Labs.

Alpha Finance Labs ecosystem.
Where can I buy and sell Binance Smart Chain Tokens (BSC)?
Binance Smart Chain (BSC) does not issue Tokens. Currently, the Blockchain network uses Binance Chain (BNB).
Currently, Blockchain BSC can work on exchanges such as Gate.io, PancakeSwap, Hotbit, so you can easily make BSC on these exchanges.
Basic Binance Smart Chain (BSC) User Guide from AZ
What to prepare to participate in BSC?
To participate in BSC, you need to own at least some BNB (Binance Coin) for fuel fees.
Step 1: First, you access the website https://www.binance.com/en to register for a Binance account.
Step 2: You buy BNB through Binance P2P with a bank account.
At the Binance homepage, select Spot => Select P2P.
At this point, you will receive a list of Coins/tokens being sold; you choose the type of Coins you want to buy. For example, if you buy Coin USDT, then click Buy USDT.
In the I want to buy, enter the amount you want to buy coin/token. After that, the system will automatically convert to the corresponding amount of USDT you receive => Select Buy now.
You log in to your Internet Banking account. Then fill in information such as Bank account number, Amount, Content to make payment => Select Transferred, Next.
After you successfully buy BNB, you can start trading on BSC on secure e-wallets like Trust Wallet, MetaMask.
Step 1: Install Trust Wallet
To trade Binance Smart Chain Wallet, you need to visit the website: https://trustwallet.com/en/ to register the wallet. The Trust Wallet system allows you to register on many Android and iOS platforms.
Step 2: Connect Trust Wallet to BSC PancakeSwap
First, on Trust Wallet, select Receive keyword Smart Chain. The system automatically displays a wallet address; you need to send some Binance Coin (BEP20) through this wallet address.
You Copy the wallet address and send Coins in other wallets or exchanges to this wallet.
Once you own some Binance Coins on the Smart Chain of Trust Wallet, you choose Dapps.
In the Smart Chain, search and select PancakeSwap.
At this point, the system will move you to the Swap interface of PancakeSwap; you are allowed to convert existing Coins to other Coins at your will.
For example, here you are owning BNB, you can change them to Coins ADA, ALPHA, … that Binance Smart Chain supports => Select Swap => Select Approve to approve.
How to trade Binance Smart Chain MetaMask
On the platform, Binance Smart Chain Meta Mask is a commonly used wallet to store ERC-20 tokens of the Ethereum network. You can now network integration Binance Smart Chain MetaMask together with ease.
Step 1: Install Metamask
Wallet Metamask Wallet is a built-in utility on Chrome, Opera, Firefox, Brave browsers and supports various Android and iOS operating systems.
To install the wallet on a web browser, visit the website: https://metamask.io/download.html.
At the main interface, select Download => Select Install MetaMask for Chrome.
Next, select the Add to Chrome => Select Add extension in the pop-up window to install it into the Chrome browser. For other browsers, you can do the same thing as above.
Step 2: Configure Metamask wallet compatible with BSC
After successfully installing the wallet, you need to connect to make Metamask and BSC compatible with each other.
Click on MetaMask's fox icon in the top right corner of your web browser's menu.

Next, click your

account icon

=> Click

Settings

=> Click

Networks

=> Click

Add Network.

At this time, the system displays a form; you fill in the necessary parameters as required => Select

Save

to complete.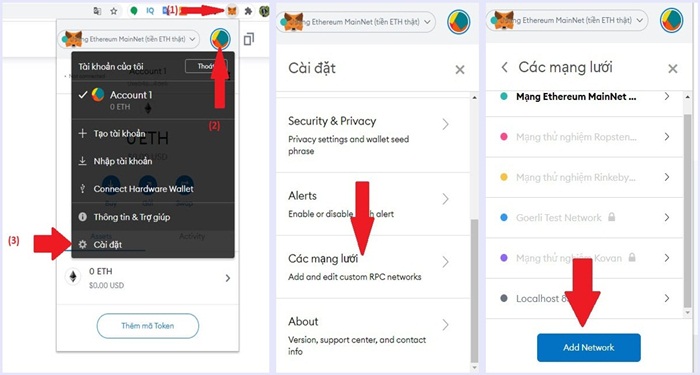 Above is information about "What is Binance Smart Chain? Overview of Binance Smart Chain BSC from AZ." Binance Smart Chain is seen as a form of significant extension of the original Binance chain's functionality and participating in a series of advanced protocols, bridging the gap between many other Blockchains. Hopefully, BSC will become stronger and stronger in the future, able to create its own ecosystem that brings many great experiences to users in the cryptocurrency market.
Frequently asked questions about Binance Smart Chain
.
Which e-wallet to use to convert BEP-2 Token (BC) to BEP-20 (BSC)?
To convert BEP-2 Token to BEP-20, you can use the Binance Extension Wallet To be installed on Chrome or Firefox web.
How to track indices on BSC – Binance Smart Chain?
You can access BscScan to look up information and check transactions related to the BSC network.
Should I use Binance Smart Chain?
Binance integrates the entire core of Ethereum into Binance Smart Chain, Defi projects are started. I run on the ERC-20 platform, especially Dapps mostly run on ERC-20. This helps to improve transaction speed quickly and at a meager cost. Besides, some quality Swap platforms like BakerySwap and Pancake are being supported by BSC, which attracts many people, so you can consider participating in this potential BSC.