If you are making money on the electronic market, then Binance DEX is a reputable exchange not to be missed. In today's article, Kienthuccoin will introduce detailed information about Binance Dex's instructions for logging in and using the exchange from A to Z.
Binance DEX is Binance's decentralized exchange, developed on the Binance Chain. This secure electronic exchange allows users to trade digital assets issued and listed here. Binance Dex's mission is to liberalize the currency of the Binance ecosystem.
Binance DEX is considered very safe, user-friendly security. Binance Dex is similar to Idex or EtherDelta, if you have used these two exchanges, you will find it familiar. However, the difference is that Binance Dex has its own chain supported by the huge community of Binance.
With the introduction of the Binance Chain, Binance's BNB token will no longer have to use Ethereum's blockchain and be migrated to the Binance Chain. Therefore, BNB will be considered a base coin for the Binance Chain. Investors can issue, receive and send new tokens on Binance Chain.
Binance DEX Wallet supports high-quality and secure hardware and software wallets to connect to the Binance Chain network.
Currently, Binance DEX supports a variety of about 25 digital currencies. In addition, Binance DEX does not support affiliate transfers, you will not be able to transfer funds between Binance Chain and other chains immediately after the main net launch.
Using Binance DEX users can:
Send and receive BNB to anyone on the DEX.

Send tokens to others on the DEX and get them back, respectively.

Issue new tokens

Burn tokens as needed

Send buy orders and sell through community-created trading pairs.

Freeze some tokens and release them if necessary

Recommend new trading pairs

Binance DEX keeps your funds safe.
Binance DEX Trading Fees
Trading fees of Binance DEX are as follows:
Transaction fees are calculated based on trade value, while fees for other transactions are fixed.

Fees on Binance DEX will be periodically reviewed and adjusted after an agreement between validators.

Users can optionally submit a new GTE order or cancel a partially filled order.

Non-commercial transactions will be charged when the transaction occurs and can only be paid in BNB, if there is not enough BNB, the transaction will be rejected.

If the entire order value and free balance for the received asset are not enough to cover the fee, the entire received asset and the exchange will charge the remaining balance.
Binance DEX User Guide
Binance DEX  is a decentralized exchange, and users manage their assets, not the exchange. Therefore, when logging in to Binance DEX, there is no need to have an account and password, just a wallet code to log in with the password.
Steps to create a wallet to login
Step 1: Go to the testnet.binance.org link and then click on "Create Wallet"
Step 2: Click the "Next" box five times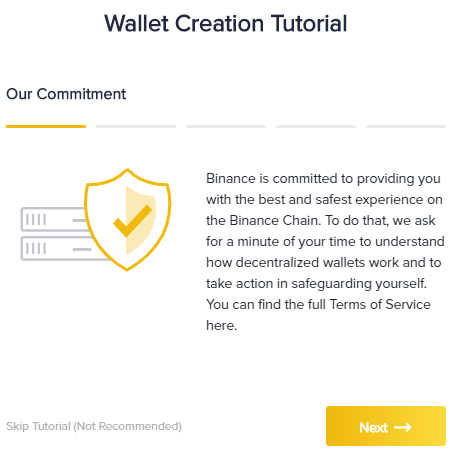 Step 3: Enter a password of at least eight lengths characters with uppercase letters, special characters (@,#,%,*,..), and numbers. Then select "Download Keystore File."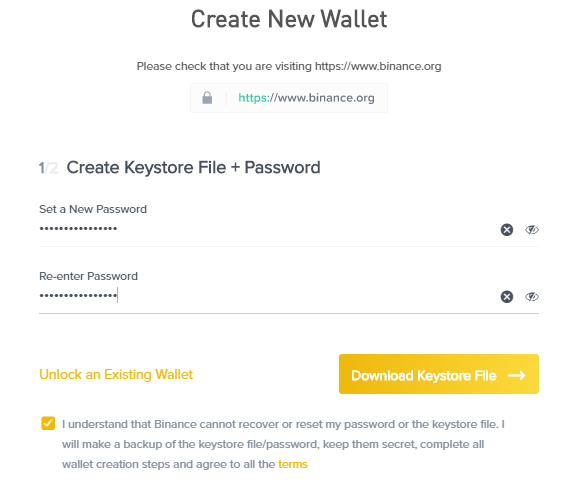 Step 4:  Remember to store this file carefully in a folder on your computer to use it later to log in; continue to press Continue to go to the next step.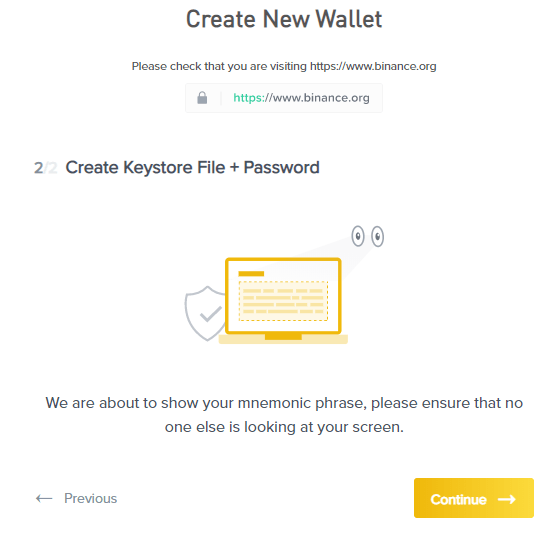 Step 5: Next, you need to save the string of characters, this is a significant string of characters, save it carefully and keep it a secret.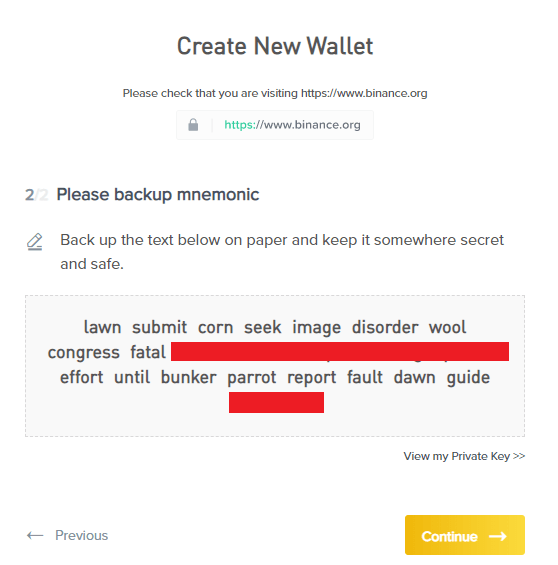 Step 6:  To unlock the wallet, select "Continue" and Select "Unlock the wallet."
Step 7: Next, choose the connection method to your wallet. You should select the 3rd connection method, Keystore File, and upload the private key file you saved to your computer in step 3, enter the password, and press the Unlock Wallet Now button to log in to Binance Dex.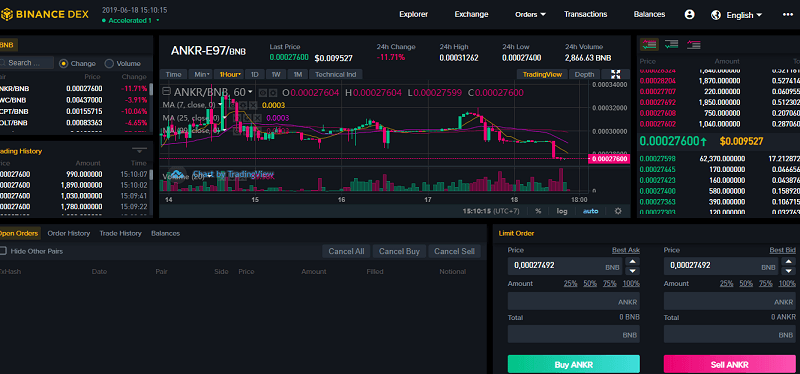 So you have successfully created a Binance Dex account and conducted transactions on Binance Dex.
How to trade on Binance Dex
The way to trade on Binance Dex to trade coins is similar to Binance exchange, including a chart of trading pairs, trading chart of each coin pair, order history, place a buy or sell order.
Identify and locate your favorite trading pairs from the box at the top left of the screen.
Users can track trading volume and transaction history from the same section below.
How to Deposit to a Binance DEX Account 
To trade on Binance Dex, you need Binance Coin (BNB). You just need to buy Binance Coin (BNB) and send it to the BNB wallet address in your Binance Dex account to trade.
Conclusion
Kienthuccoin introduced detailed instructions on Binance DEX through the above article, hoping to help you to be able to trade and use Binance DEX more easily. Binance DEX could very well be a new trend in the future of the crypto market while there are so many hacked exchanges today, this Binance platform will help every investor to control their own assets and don't worry about losing money when the exchange is hacked.
What are some frequently asked questions about Binance DEX?
How is Binance DEX different from Binance?
As is typical of decentralized exchanges, users can keep their own wallets and manage their own wallets on the Binance DEX exchange. This is a noticeable difference from Binance – a centralized exchange we are still using.
With centralized exchanges, the exchange's system will control and store asset information and user transactions. This is in contrast to current decentralized exchanges like Binance DEX.
It is clear that CZ and the development team have a long-term vision in the ecosystem development strategy for Binance to look to the future, where decentralized exchange is an inevitable trend in the Crypto world. By safety, security, and high anonymity.
Should I use Binance DEX?
Decentralized exchanges are by nature designed to be more resilient than centralized exchanges. On the other hand, Binance has been known as one of the top-rated exchanges with privacy protocols. The custodial nature of decentralized exchanges means that there will be no custodians to store user funds. However, hackers will still be a constant threat, as hackers are known to target decentralized exchanges with DNS attacks that redirect users to websites. Scams they control. When users unlock their wallets on these sites, hackers access your wallet.
However, the development team behind Binance DEX does provide some pretty good information on the general practices that users should use and elaborate on trading and specs, anti-run mechanisms. that they use.
Transactions Specification

IncorporatingLogic

Anti-Run
The development team has also outlined protocols for emergencies and disaster recovery. Binance Chain uses Byzantine Fault Tolerance (BFT) and Proof of Stake (PoS) consensus mechanisms to generate blocks in a series of Validators. This is similar to the structures used by platforms such as EOS and NEO. However, this has led to some criticism for blockchain purists, who consider both EOS and NEO to be highly centralized blockchains and who also consider the number of nodes limited. That Binance will not create a decentralized exchange. And here is the reply of Binance CEO Changpeng Zhao as he replied via twitter.
There are currently 11 nodes protecting the network, with Binance keeping full control of the operation; Github also does not contain any source code, however, this issue is not related to the safety and security of users. This method will consider the speed and processing capacity of the exchange.
What coins does Binance DEX support?
At the time of writing this article, the Binance DEX exchange supports 14 coins/tokens, including BNB. Binance DEX is still listing more coins on its platform, of course, in the future, it will support more coins. Below I will list all the coins that Binance Dex is supporting trading: Ankr Network (ANKR), BlockMason Credit Protocol (BCPT), Binance Coin (BNB), BOLT (BOLT), eBoost (EBST), Fantom ( FTM), etc.