After the success of many typical IEO projects such as BAND, ERD, CTSI, Binance continues to announce IEO The Sandbox (SAND) on Binance Launchpad.
So What is SAND Coin? Overview of The Sandbox project & whether the SAND coin is worth the investment or not. Let's find out with Kienthuccoin in the following article.
The Sandbox (SAND) is a network built on the blockchain platform Ethereum.
This network allows users to collect assets – the native token of the ecosystem, SAND coin – while playing the game and using this crypto for better gaming experiences.
Besides, players can create digital assets in the form of NFT (Non-Fungible Token), put them on the market, and integrate them into games in Game Maker.
What are some products of The Sandbox ecosystem and Sand coin?

VoxEdit
VoxEdit software suite allows users to create and animate 3D images. After creating products, users can upload them to The Sandbox marketplace to become ASSETs of The Sandbox game.
Marketplace
Marketplace allows users to upload, publish and sell their ASSETs created in VoxEdit. But before that, ASSETs need to be uploaded to the InterPlanetary File System (IPFS) network and registered on the Ethereum blockchain to prove ownership.
Game Maker
Game Maker allows users to build 3D games for free and easily.
LAND, GEM, and CATALYST 
Besides the native token SAND, LAND is another asset in The Sandbox virtual world that players can own. By owning a part of LAND, players can bring them into the game and ASSET. Multiple LAND fragments can be combined to form an ESTATE.
GEM and CATALYST are responsible for determining the level, scarcity, and attributes of ASSET. CATALYST adds network sockets to the NFT and can be filled with GEM. The higher the CATALYST quality, the more sockets your ASSET will have.
Users can earn extra income by:
Selling ASSET: Users can create and sell ASSET on the market as NFT.

Owning LAND: Buy LAND in LAND sales. Players can then rent them or include them in the product to increase the LAND value.

Build games on Game Maker and make money from them
What is SAND Coin?
What is SAND coin? SAND is an ERC-20 token utility token. SAND Token is used for trading, value conversion as well as staking, and network administration.
Use case of SAND coin
.
Trading assets like currency: Users can use SAND coins to trade and store
Means of Transaction:
Gamers collect SAND coins through the game and use them to buy items, customize characters, etc., in-game.

Artists spend SAND uploading songs, art products to Marketplace and buying GEM to determine product rarity.
Network Administration: SAND holders have the right to participate in network governance decisions, voting or voting authorization
Staking: Users can stake SAND coins to earn rewards and stake GEM and CATALYST to create ASSETs.
Fee Capture Model: 5% of all trading volume made in SAND (Transaction Fees) will be reallocated, with 50% for the Staking Pool as a reward for holders who staked SAND and 50% for the Founders Team.
On which exchange can SAND coin trade?
As of the time of this writing, users have not been able to buy our own SAND until the IEO Sandbox on Binance2020 on August 13,
Token Sale Data

SAND Token Allocation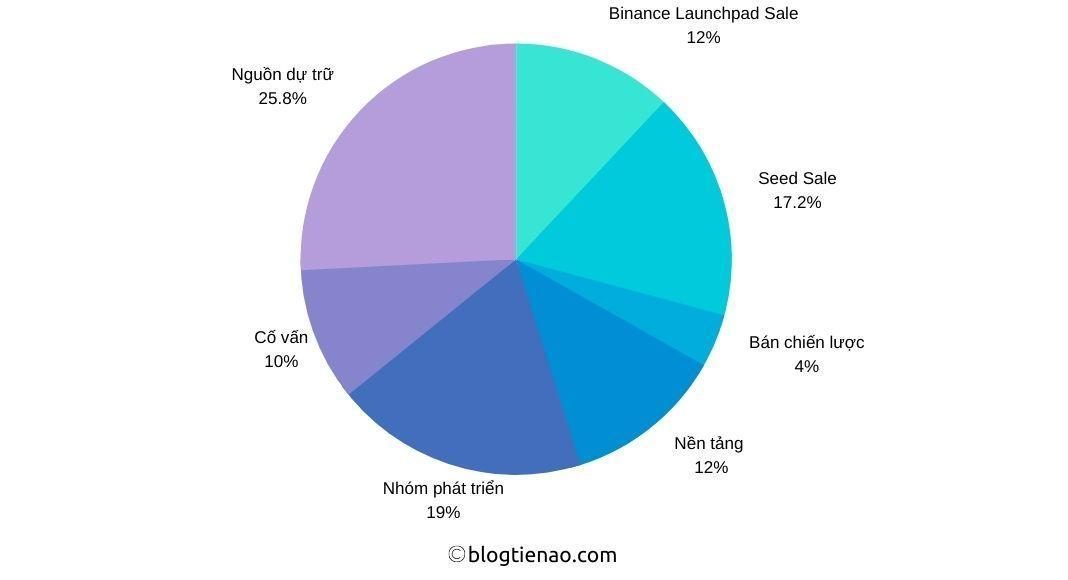 Project Development Team
Arthur Madrid (CEO & Co-Founder): Co-founder and CEO of Pixowl and a member of the Board of Directors of Animoca Brands.
Sebastien Borget (COO & Co-founder): Co-founder and COO of Pixowl, former COO of Wixi Inc and 1-Click Media Networks, and president of Blockchain Game Alliance.
Lucas Shrewsberry (CTO): Pixowl's CTO and former Head of Engineering at Gameloft.
Marcelo Santurio (CFO): Former Head of BD at Partypoker LIVE, Co-Founder and CEO of Segulink.com, CEO of Convergia.
Future Development Roadmap
Q3 2020
Game Maker beta public release.
Launch of 4 LAND Token Pre-sale Program
Upgrade Release of Marketplace.
Q4 2020
Public beta release of The Sandbox Game
Launched in-game token earning mechanism in-game multiplayer
Released Mode.
Launch regular LAND token sales.
Released VoxEdit 1.0.
In 2021
Launch of Foundation DAO and staking SAND.
Released Game Maker 1.0, The Sandbox Game
Released games on smartphones and tablets.
Publish user-created games with multiplayer mode.
2022
Game integration on the console.
Game Maker Co-Build Model Release
Commercial Partnerships
Atari: A video game company founded in 1972. The partnership between The Sandbox and Atari will allow Atari to showcase games and content in the virtual world of The Sandbox gaming.
SBS Game Academy: A video game education organization in Korea. SBS Game Academy will develop a curriculum about The Sandbox Game Maker.
Shaun the Sheep: This is an animated series with a separate series and two feature films. "Shaun the Sheep" cartoon characters will be transferred to The Sandbox as assets on the platform.
Matic Network: This is a well-known decentralized ecosystem. Matic Network will collaborate with The Sandbox team to deliver faster transaction speeds and a better UI/UX experience on The Sandbox platform.
Social and Media Channel
Telegram (English) | 30.1K Members
Telegram (Korean) | 2K Members
Facebook (The Sandbox) | 638.0K Members
Facebook (VoxEdit) | 2.0K Members
Instagram (The Sandbox) | 4.9K Members
Twitter (The Sandbox) | 212.6K Followers
Twitter (Voxedit) | 4.0K Followers
Summary
Hopefully, through the article "What is SAND Coin? Overview of The Sandbox project & SAND coin," you have had a better overview of the Sandbox project as well as the SAND coin. Follow Kienthuccoin to stay up to date with the latest news in the field.
Frequently asked questions about SAND coin?
Should I invest in SAND tokens?
With a project with a clear development roadmap like The Sandbox, a reputable development team, the cryptocurrency is listed on the world's largest exchange; you can rest assured about the transparency. Transparency as well as the growth potential of the project in the future.
However, it is up to you to decide whether to invest or not. This article by Kienthuccoin is for reference only and cannot provide you with investment advice.
Where to buy TLM tokens?
You can now buy TLM tokens at the most significant exchanges globally, such as Binance, MEXC, Gate, etc.
Where can you store TLM tokens?
TLM is a token on many different blockchain platforms such as BEP-20, ERC-20 so that you can store it through many popular wallets such as Safepal, Trust Wallet, Metamask, etc.