For investors who have been participating in or are interested in the virtual currency market, Binance Launchpad is a concept that is not too strange. Binance Launchpad was also the investment trend in 2019. The most prominent This article Kienthuccoin will share "What is Binance Launchpad? How to play Binance launchpad" detailed today:
Binance Launchpad is described as a "token launchpad for Blockchain projects." In a word, the Binance exchange will be a stepping stone for "To the moon" projects. Binance will help Startups with knowledge, networks, and capital through IEO fundraising, the rest of the projects are developed.
They will provide knowledge, network, capital through IEO fundraising. The platform helps projects access the vast ecosystem of the world's number one electronic floor.
Starting from 2019 until now, Binance Launchpad has introduced to users many quality projects such as Polygon, Axie, WarzirX, Band Protocol, Cartesi, etc.
Learn about the birth of a launchpad for Startups
In any field and industry, new ventures are vulnerable, lack direction, lack resources, and lack the right push.
To support similar cases, Binance Launchpad was born to provide necessary resources for new projects. Binance Launchpad is the place to source the help a unique project needs, allowing it to present its ideas in front of 10 million Binance users and potential investors.
Reasons to buy IEO on

 Binance Launchpad

?
To be listed on Binance Launchpad, the project must go through extremely rigorous testing processes based on the criteria set by Binance to determine if it passes the standards of Binance.
What Binance considers most important to a project:
Relative maturity in the development of the project

Large-scale adoption readiness

The solid and dedicated team

Potential for growth and The development of the broader ecosystem
He Yi – co-founder and Marketing Director of Binance, discussed this on Weibo: "I want to make it clear that projects on Binance become popular because they are of high quality and low price. But once a project is listed, its price will be determined by the global crypto market, and time will tell which projects are good."
Or in an interview with the BlockBeats blockchain, Binance CEO Changpeng Zhao (CZ) also said that the rise and fall of the token price are determined by independent market behavior and will never be manipulated by Binance.
All of the above factors have made many investors interested in Binance Launchpad.
IEO projects on Binance Launchpad
Up to now, there have been 13 IEO projects successfully opened for sale on Binance Launchpad. Some projects you can refer to:
– BitTorrent (BTT)
– Fetch.AI (FET)
– Celer (CELR)
– MATIC NETWORK (MATIC)
– HARMONY (ONE)
– Elrond (ERD)
– WINk (WIN)
– Perlin (PERL)
– BAND Protocol (BAND)
– KAVA (KAVA)
– TROY (TROY)
– WazirX (WRX)
– Courtesy (CTSI)
Attention to project evaluation before investing:
Before investing in any project, you should also delve into that project.
As mentioned above, projects before being listed on Binance Launchpad must fully meet strict requirements. In each project, Binance Launchpad brings out the critical, detailed information and places it under the Requirements tab to ensure that it is easily accessible.
Additionally, Binance has established a research center where they conduct in-depth reviews for each listed project.
Conditions to participate in buying IEO on Binance Launchpad
To participate in IEO, of course, you must comply with Binance's conditions:
Having an account that has KYC Binace

That account must hold all BNB by the specified date.
Steps to buy IEO on Binance Launchpad
Step 1: Access Launchpad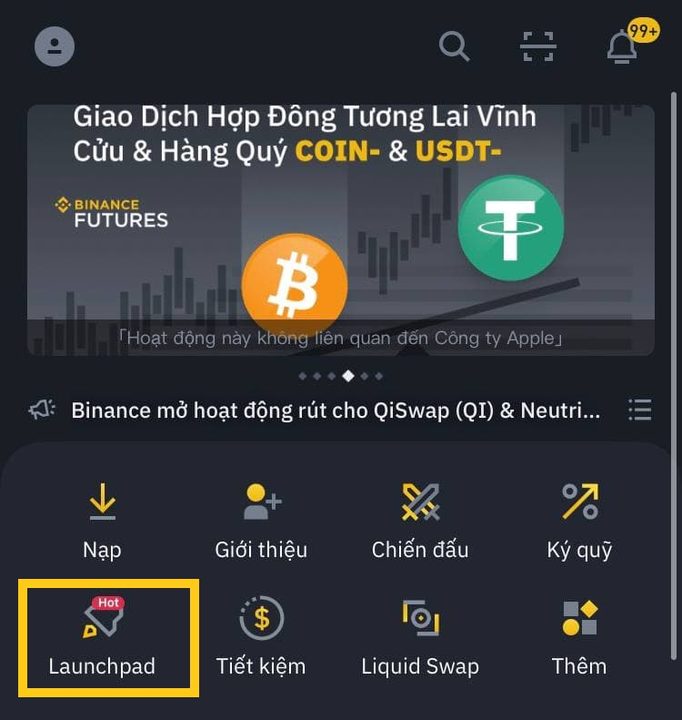 To access the Launchpad section, you can follow the following link:https://launchpad.binance.com/. If you use the Binance app on your phone, go to the Launchpad section on the home page. 
Step 2: Select the IEO you want to buy
Here, I choose to buy Tokocryopto (TKO). You just need to click, and it will go through the process for you to register to buy.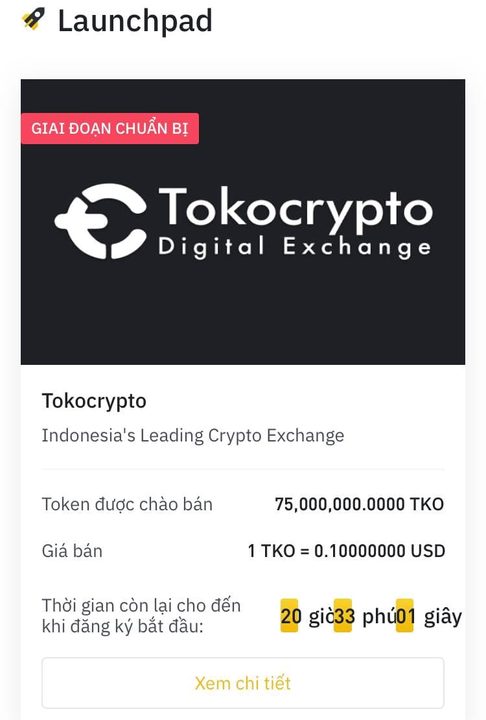 Step 3: Hold BNB and wait until the registration date
Usually, the exchange will ask you to hold BNB for seven days. Your BNB reserves will be captured automatically in spot wallets, margin wallets, etc. 
Some Launchpad projects may capture balances before making an announcement. So if you don't want to miss out, the account must always hold BNB.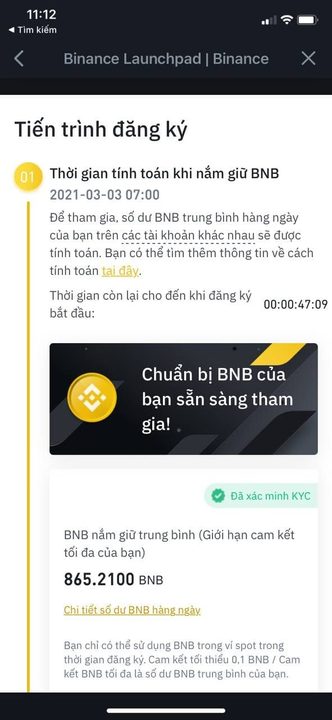 Step 4: Pledge BNB
When it's time to sign up, you will use the BNB number in the Spot wallet to Pledge. The maximum amount you can commit is equal to the amount of BNB that has been snapshotted.
Click the button Commit BNB to commit.
Enter the amount of BNB you want to Pledge and press the button Commit Now. How much BNB you can commit to buying is up to each person's decision.
But the more BNB Pledge you have, the more CEOs you can buy. However, there will be a limit depending on the project.
Confirm the BNB Pledge by pressing the button again Pledge Now.
Step 5: Final Token Allocation
After the registration period expires, the calculation time will come. Binance will calculate the number of you tokens you can buy according to the formula: (Your Amount of BNB Committed / Total Amount of BNB Committed) * Number of Tokens Sold.
Tokens will be deducted from the amount of BNB you committed.
Summary of information about Binance Launchpad:
Binance Launchpad is a very potential investment market, but no matter what, before investing, you must learn carefully about the project and how to play Launchpad. Choose reputable brokers to reduce risks and do not follow the movement significantly.
With the information that Kienthuccoin has just provided, we hope it will be helpful to readers who are interested and want to learn about Binance Launchpad.
What are the frequently asked questions about Binance Launchpad?
Is participating in an IEO risky?
The financial market is always a potential investment field, promising to bring extremely attractive returns. However, the more excellent the opportunity, the greater the risk.
You may face the following risks:
Price
risk Exchange risk Risk of exchange
token prices used to buy CEOs
Risk of bad CEOs…
Which countries cannot participate in CEOs on Binance Launchpad?
Countries that cannot participate in CEOs on Binance Launchpad are Afghanistan, Burundi, Belarus, Central African Republic, Congo, China, Ethiopia, Guinea, Guinea-Bissau, Iraq, Iran, North Korea, Lebanon, Sri Lanka, Libya, Serbia, Sudan, Somalia, South Sudan, Syrian Arab Republic, Thailand, Tunisia, Trinidad, Tobago, Ukraine, Uganda, Venezuela, Yemen, Zimbabwe and some states in the United States (New York, Georgia, Connecticut, New Mexico, Hawaii, Washington).
How to get listed on Binance Launchpad?
Before a project enters the Binance Launchpad platform, it typically goes through a rigorous review process to determine if it passes Binance's standards. Some of the factors we look for in a scheme include:
Relatively complete project development

Ready for large-scale adoption

A dedicated and experienced team

Potential beneficial for growth and development of the broader cryptocurrency ecosystem.
When a project goes through this selection process, it will be featured on the Binance Launchpad, whereby Binance users may be interested in participating in that project's token offering.