What is Binance exchange? Is it reputable? How to register/deposit/withdraw money on Binance exchange? Kienthuccoin will answer right in the article below:
What is Binance exchange? Binance is a cryptocurrency exchange founded by Changpeng Zhao. Binance is also the largest cryptocurrency exchange globally, always in the top 3 in terms of trading volume with more than 900 trading pairs. In particular, Binance was included in the list of exchanges with accurate volume announced by Bitwise. 
Review of Binance
exchange Binance exchange has a low transaction fee of only 0.1%

Supports trading of virtual currencies with BTC, ETH, BNB, and USDT.

Capable of processing 1.4 million orders per second.

Holds the 11th position in terms of 24h total trading volume according to Coinmarketcap statistics.

Integrating many different payment methods: Visa Card, Master Card but the cost is very high, it takes 3-4% transaction fee.
The ecosystem of the Binance exchange
Binance exchange has a very diverse ecosystem, providing many services such as Lending, Margin trading, Futures, Staking, DEX,…
Binance Exchange ecosystem:
futures trading platform
BinanceJEX: Conventional and Derivatives Trading Platform Acquired by Binance from JEX
Binance Margin Trading:
Binance Lending Decentralized
Exchange: Binance Launchpadtokens for blockchain projects
Binance P2P: Peer-to-peer Cryptocurrency Trading Platform
Binance Cloud: Opening
Cryptocurrency Exchange Binance Options: US
Trust Wallet: Wallet Decentralized cryptography
Features of Binance
exchange
Binance exchange offers good security, user-friendliness, and strong performance. Some features offered by Binance:
Safe and stable

: Using a powerful multi-tier architecture system Multi-

Device support

: Supports web browsers, Android, IOS, HTML5, WeChat, and other platforms

Performance high

: Can handle 1.4 million orders per second

Multi-language support

: Support Chinese, English, Japanese and Korean, Russian, and Spanish. Of course, there is recently Vietnamese on both website and app.

High liquidity

: Provide several cryptocurrency pairs with highly high liquidity

Support for many Coins

: Allows more than 271 other virtual currencies trading.

Teamteam

: Binance is run by Changpeng Zhao. Overall, the company says its team has extensive experience in both Wall Street and crypto finance, along with a track record of successful startups.

Proven Product

: The Binance platform has been implemented on 30 pre-existing interfaces. The platform supports all devices and multiple languages.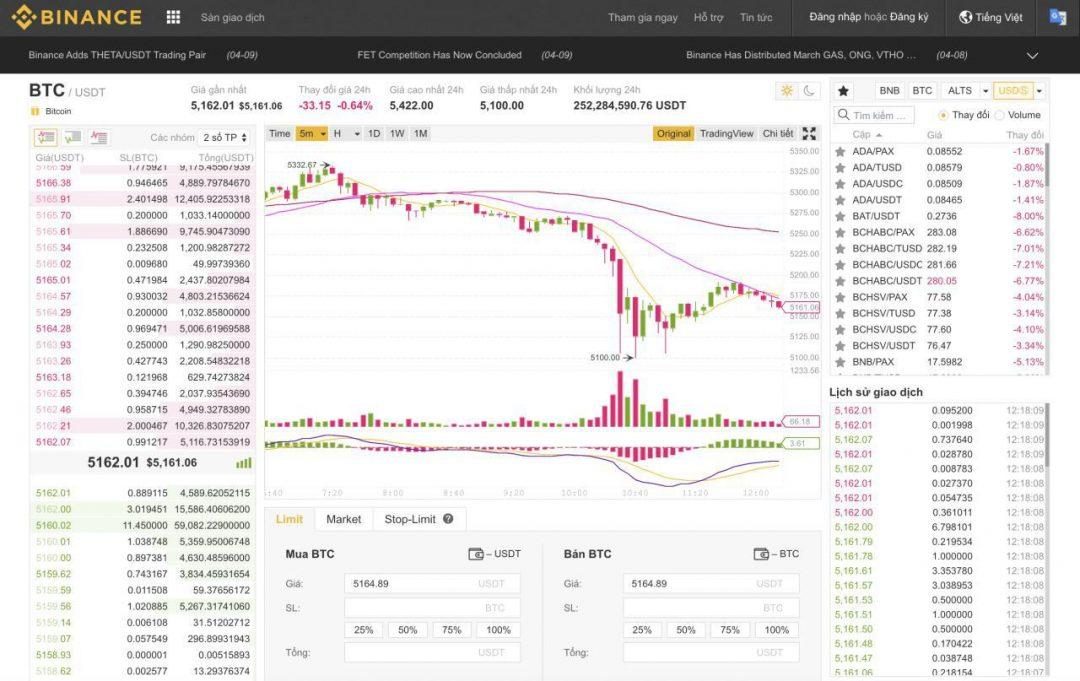 | | | | |
| --- | --- | --- | --- |
| 30 | Days Trading Volume (BTC)& Holds BNB | Maker & Taker | Maker & Taker Using BNB |
| General | <50 BTC or >=0 BNB | 0.1000% & 0.1000% | 0.0750% & 0.0750% |
| VIP 1 | >=50 BTC & >= 50 BNB | 0.0900% & 0.1000% | 0.0675% & 0.0750% |
| VIP 2 | >=500 BTC & >= 200 BNB | 0.0800% & 0.1000% | 0.0600% & 0.0750% |
| VIP 3 | >=1500 BTC & >= 500 BNB | 0.0700% & 0.1000% | 0.0525% & 0.0750% |
| VIP 4 | >=4500 BTC & >= 1000 BNB | 0.0700% & 0.0900% | 0.0525% & 0.0650% |
| VIP 5 | >=10000 BTC & >= 2000 BNB | 0.0600% & 0.0800% | 0.0450% & 0.0600% |
| VIP 6 | >=20000 BTC & >= 3500 BNB | 0.0500% & 0.0700% | 0.0375% & 0.0525% |
| VIP 7 | >=40000 BTC & >= 6000 BNB | 0.0400% & 0.0600% | 0.0300% & 0.0450% |
| VIP 8 | >=80000 BTC & >= 9000 BNB | 0.0300% & 0.0500% | 0.0225% & 0.0375% |
| VIP 9 | >=150000 BTC & >= 11000 BNB | 0.0200% & 0.0400% | 0.0150% & 0.0300 |
Fees
Currently, the Binance exchange is free. When you Deposit and Withdrawal, you will be charged for each Coin.
You can refer to the withdrawal fee via the following link: binance.com/vn/fee/schedule.
The registration process on the phone or computer interface is similar; Kienthuccoin will guide you through registering on the phone:
Step 1: Go to https://accounts.binance.com/vn /register/ and select Register. Select Vietnamese language for easier use.
Step 2: Enter the email and password you want to register. Password must be at least eight characters long and contain a capital letter.
Step 3: Check the "I have read and agree to the Binance Terms of Service Terms of Use" box and select Register.
Step 4: The interface will appear as shown below. You slide from left to right to confirm the registration and open the interface.
Step 5: Access the email you registered and pressed the Confirm Register to confirm.
When the line "Account Activation Successful" appears, it means you have successfully activated your Binance account.
Instructions to login account
On Smartphone: Go to Accounts, then Log in or Register. Enter your email and password.
On Website: to login to the page. You also enter the account you just registered. 
Instructions to enable 2FA for account security 
Account security is an essential feature to protect your account. You can use 2-factor authentication using SMS or Google Authenticator.
It would help if you used Google Authenticator for Security, avoided network errors, and used SMS to log in. 
Enable Google Authenticator on Binance App Go 
to Account -> Security -> Authenticate with Google. Details of the steps you can see at Activating Google Authenticator for the exchange account.
Enable Google Authenticator on Binance Website
You go to account -> Security -> Enable and perform the following actions:
Step 1: Download the Google Authenticator app. Both App Store and Google Play support this app
Step 2: Enter manually or scan the QR code provided by Binance.
Step 3: Remember to save the backup code; if you lose your phone, you can enter this code to use. Otherwise, you must submit a ticket and wait seven days to reset Google Authenticator.
Step 4: Enter the login password and six numbers in the 2FA application.
Secure account by SMS
On Binance app:
Step 1: Go to Account -> Security -> SMS Authentication. Enter your phone number and then tap Send SMS.
Step 2: Enter the code sent in "SMS verification code. "
Step 3: Enter the Google Authenticator code. If you have, it installed, press the Confirm.
On the Binance website, the
operations are similar to the Google Authenticator section above, and select Enable at SMS Authentication.
Next, you enter your phone number and then click Send SMS. Then enter the code sent in "SMS Authentication."
If you have activated Google Authenticator, enter "Google Authenticator Code" and Allow SMS authentication.
KYC Identity Verification Guide 
Identity Verification for KYC helps you increase your withdrawal limit from 2 BTC/day to 100 BTC/day. Note that you can only do KYC when you have two-factor authentication for your account.
You need to prepare a Citizen ID Card or Passport and know the zip code of your place.
On Binance App 
The KYC on the app can only be verified for individuals. As for businesses, you must verify at the Website of the exchange.
Step 1: Go to Account and select Verify identity.
Step 2: Enter the essential information and select Next.
Step 3: Enter your complete residence information and click the Submit personal information.
Step 4: Select the type of document to verify: Identity Card or Passport.
Step 5: You scan the front of the CCCD card and select READABLE. Do the same with the backside.
Step 6: Face verification: click TAP TO CONTINUE and move your face closer to the camera to match the circle on the screen. Appear Upload successful; you have successfully verified. 
On the Binance website,
go to Account -> Security -> Identity -> Authentication. Then you choose the form of KYC as an individual or a business.
Step 1: Enter your full name, date of birth, and residential address.
Step 2: Verify ID: click Start to start verification: Country and identity verification document type. You can choose a Passport or Identity card.
Instructions for depositing/withdrawing on Binance exchange How
to deposit on Binance
From the Binance website, select "Deposit."
Depending on the type of Coin you want to send, there will be different tokens. You need to enter the correct Coin token you want to send. 

Next, deposit Bitcoin to the wallet address shown.
Instructions for withdrawing money on Binance
You perform the same operation as a deposit when you want to withdraw money. The only difference is that you choose "Withdraw" in the first step instead of "Deposit." The screen of withdrawal transactions on Binance is as follows:
Instructions for buying and selling coins on Binance
Step 1: Access the "Exchange." There are two options here, "Basic" and "Advanced." TinoHost recommends choosing the "Basic" to be more user-friendly.
Step 2: You can select the trading pair you want to buy/sell in the left corner of the screen.
Here is the interface of buying and selling coins on Binance: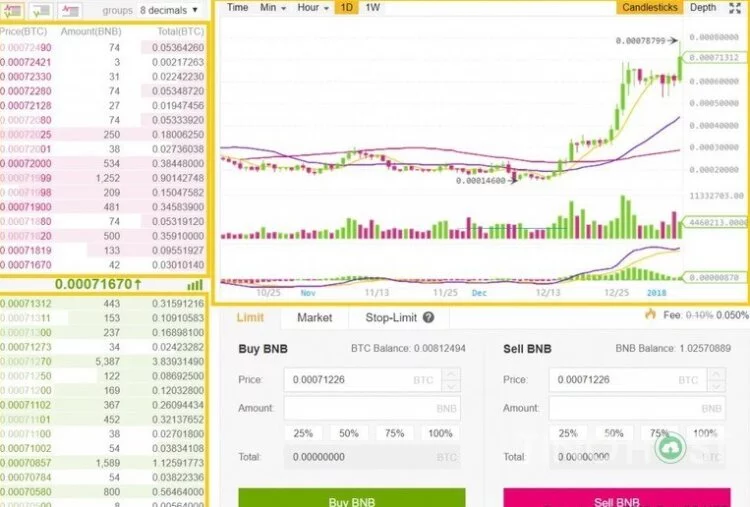 Specific:
The chart in the middle: you can track how the Coin's trading volume goes up and down in chronological order.

The red column on the left: orders to sell coins.

Blue column under red column: buy orders for coins.

The two Buy/Sell boxes below are for you to place orders.
The orders on the Binance exchange are Limit, Market, and Stop-Limit. Select the price and quantity, then click Buy/Sell to complete the transaction!
Instructions for placing trading orders
Step 1: Choose the Coin you want to buy and sell at the place where the trading pairs are changed
Step 2: Choose to buy or sell
Step 3: Choose the type of order
Step 4: Set the price
Step 5: Click buy or sell
Order Types
Limit
Orders Limit (limit) orders help you buy a cryptocurrency at the desired price. The desired price is the Limit price.
Market
Orders Market (market) orders help you buy or sell quickly at the market price.
For example, I see the price of BTC increase by 10% compared to the price I bought. I want to sell immediately and don't want to wait any longer. At this point, I just need to place a sell order to take profits.
Stop-limit
Order A stop-limit order is a stop-limit order. This order is often used to cut losses if the price drops sharply to reduce the risk of loss. But often, these commands are accessible to "hunt." They may push the price to break the support or resistance area, and then the price will return to the original level.
For example, I buy BTC for 7000 USDT and accept a loss of $100. To preserve capital and not incur further losses. At this point, I will place a stop-loss order to sell with a Stop price of 6910 USDT and a limit price of 6900.
The stop price or stop price is the condition to activate the limit order. This means that when the Bitcoin price drops to 6910 USDT, the exchange will automatically place an order of 6900 USDT.
The difference of 10 USDT used to deduct when the price drop is too firm will not be matched.
If you set this spread too low, it will be challenging to execute the order if the price falls sharply.
Attention:
The stop price is at the top, and the limit price is at the bottom.

When selling stop price > limit price.

When buying stop price < limit price
OCO
Order OCO order is a combination of 2 orders: limit and stop-limit order. OCO orders help you stop loss and take profit at the same time. The main downside is that it also limits your profits.
For example, I bought Bitcoin at 7000, and I want to sell it when it goes up to 7300 and cut my loss when it drops to 6900. Then the OCO order is suitable for me.
The limit order is the selling price (upper block). The Stop-limit order is the stop-loss price (even below). If one of my two orders is active, the other will be canceled.
Attention:
Buy order: Limit price < current price < stop-limit price.

Sell ​​order: Limit price > current price > stop-limit price
Instructions for withdrawing coins on the Binance exchange Kienthuccoin will guide you to withdraw Stellar Lumens (XLM). Some other cryptocurrencies are also a bit different but essentially the same. 
On the mobile app
Step 1: First, go to "Funds" on iOS or "Capital" on Android. Next, click directly on the Coin you want to withdraw or click the "Withdraw" button, select "I understand, continue."
Step 2: Enter the coin address to withdraw and then press Withdraw
Step 3: Enter the 2FA verification code you have Set. Be it SMS or Google Authenticator.
Step 4: You check the withdrawal address information. If everything is correct, then click the Confirm Withdrawal button. If clicking the button does not work, you can click on the link provided by Binance.
Usually, the link does not work; you copy the Verification code. You go back to the application and click on the section you framed above. Then paste the copied code there, and you're done.
If there are no other errors, you will get them as shown below. So you have successfully withdrawn! 
On Website
Step 1: Go to Wallet and click Transaction Wallet (Deposit & Withdrawal). In the "Money," enter the Coin you want to withdraw. Finally, click on the Withdraw button.
Step 2: Enter the exact address you want to move to. Then click the Send
Step 3: Enter 2FA and verify the email. You can see the draw on mobile as it is the same. 
Must-know notes
How to keep your account safe
A trading account always has money, so it will always be watched. Therefore, it is essential to keep your account safe. To stay safe, Kienthuccoin will suggest you a few ways as follows:
Enable 2FA: Not only for Binance accounts. Please turn it on for both Gmail and related things.

Do not click on strange links: Only login at "

binance.com

."

Do not see strange mails: The best giveaway or coin giveaway mails you should not click to see.

Do not give out personal information to strangers.
Deactivate Binance Account
Why Deactivate Account?
When you detect unusual accesses at other addresses or withdrawal orders that you do not withdraw, the first thing you need to do is disable it to avoid property theft. 
If you disable it, what will happen to your account?
Pending withdrawals will be canceled

You will not be able to make any more transactions

Your API keys will be deleted

Devices that were previously associated with the account will be deleted

To reactivate your account, you need Contact

support@binance.zendesk.com.
So you need to determine carefully before performing the steps to deactivate the account. 
How to disable an account
On the iOS application: Go to the Account section and click the Deactivate button. That's it, very simple.
On Android 
The steps are the same on iOS, but the disable button is slightly different. You click the button next to the email and click account.

On the Website
You go to the account and choose Security. In the Account Activity, click on the words Deactivate account.
You click the Deactivate account. Then click Confirm. 
Use BNB to reduce transaction fees.
On the Binance app, to use BNB to reduce transaction prices, go to the Account section and click Use BNB to pay transaction fees.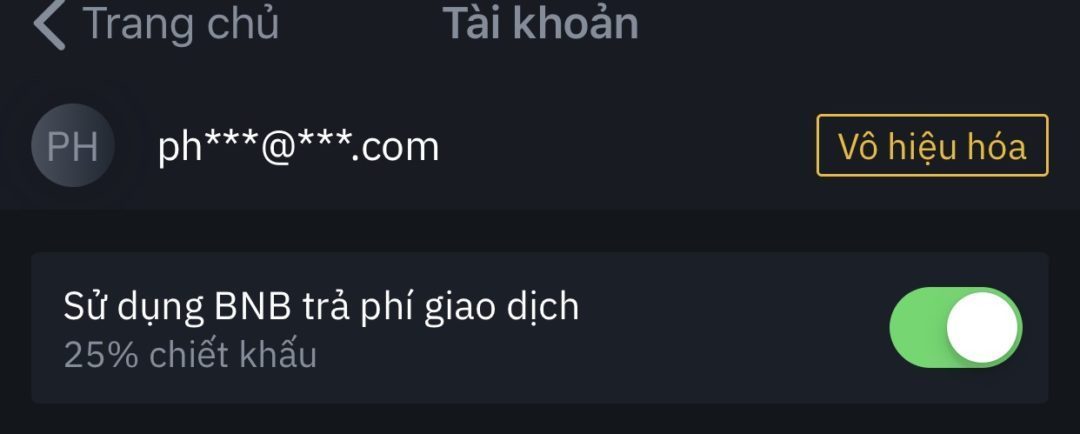 On the Website, you go to the Account section. In the Overview section, scroll down to your transaction fees. Click on Use Paid BNB. 
Submit a Support Request to Binance
When you encounter problems, you can submit a support request to Binance exchange according to the following steps: Go to binance.com/vn/support, then select Submit a request. Here at the "Send Request" section. Select the type of request you need support for.
For example, you withdrew XLM but forgot to enter MEMO. Then now, you choose Help with Withdrawals. "Withdrawal Issue Type" choose Forgot or Wrong Tag/Memo/PaymentID. You enter all required information and then click Submit.
Note: 
Binance staff will not ask you to send money to any other address. They do not communicate through other social networks. Therefore, people should be careful with messages claiming Binance employees are coming from social networks, especially Binance.
Conclusion
Binance exchange is trusted by millions of global crypto investors thanks to its good Security, safety, low transaction fees, and high liquidity. Therefore, users choose Binance to buy and sell bitcoin every day, helping you get the most profit through bitcoin investment. 
Above is the complete information about the Binance exchange. Hopefully, the article has brought useful information, helping you to have more exciting choices when trading virtual currencies.
Frequently asked questions about What is Binance?
Is Binance a scam?
Binance is considered the most prestigious exchange today to Trade coins regarding both the number of users and the trading volume. Furthermore, Binance is one of the largest exchanges in the world.
Up to now, there has not been a single scam related to Binance. Before that, there was also a lot of information that Binance was a scam, but that information was not accurate.
In the history of the Binance exchange, it has also been attacked by hackers but did not cause damage to investors. Binance's technical team has solved all the problems; this point also shows the ability of Binance, which makes investors incredibly assured to invest in the Binance exchange. 
On which devices can Binance exchange be used?
You can use Binance exchange on both desktop and mobile. For mobile devices, almost the same features have been integrated on the Website, but it has been updated after a while.
On mobile devices, Android devices are often updated with features earlier than iOS.
The Binance App has been integrated on both the App Store and Google Play. 
Who can register and use Binance's services?
All citizens in countries around the world except the US can register and use Binance. In addition, you must be over 18 years old and have an Identity Card, a driver's license, or a Passport.
If you are a US citizen, you can use Binance.us, an American-only platform, or the Binance DEX.