Investors must have heard a lot about the name Bilaxy exchange but do not understand What is Bilaxy exchange and how to trade on Bilaxy exchange. If traders are also facing the above situation, then do not ignore the helpful sharing of Kienthuccoin in this article.
What is Bilaxy exchange? Bilaxy exchange is a centralized cryptocurrency exchange (CEX) launched in April 2018 and registered in the Republic of Seychelles. This exchange is currently receiving a lot of support from the investor community.
This exchange can provide users with more than 100 coin/token pairs to trade, including big coins like Bitcoin (BTC), Ethereum (ETH), and the small coins that traders love by the extremely fast coin listing speed. However, Bilaxy only supports coin and coin trading and does not support coin trading with Fiat.
Currently, Bilaxy is still exchange with a reasonably large trading volume, reaching the Top 60 exchanges with the most significant volume globally, about $31,838,515 in the past 24 hours.
What is Bilaxy Token?
If you want to know what the unique feature of Bilaxy is, then this exchange has its own token.
Cryptocurrency Bilaxy Token (BIA) is a token issued by Bilaxy exchange to maintain and develop its platform. This is an ERC-20 token built on top of the Ethereum Blockchain, which currently has a total supply of 2,000,000,000 BIA.
The essential features of BIA are similar to other exchange coins such as Binance's BNB, Huobi's HT, even Bibox's BIX. For example, when trading with BIA, you will receive a reduced fee.
Bilaxy exchange fee structure
When you participate in trading on Bilaxy – a cryptocurrency exchange, you will encounter three types of fees as follows: 0.15% Trade Fee (transaction fee), Deposit Fee (free of charge), as for Withdrawal Fee (withdrawal fee) it depends on the coin you withdraw.
The trading coin on Bilaxy 
Bilaxy Exchange uses a maker and taker fee mechanism, the fee charged for both maker and taker, is 0.15%.
As shared above, if you use BIA to discount transaction fees, you will receive a 50% reduction (first year and will not be reduced until the 5th year) transaction fee, i.e., a transaction fee will be 0.075%, cheaper than the common ground but still higher than Huobi transaction fee only 0.07% if using HT.
Deposit
Fees Depositing on Bilaxy exchange is free.
Withdrawal
Fees Withdrawal fees will vary depending on the coin/token you withdraw and will often be adjusted according to blockchain conditions.
Since blockchain assets have a large price in a short time, Bilaxy exchange reserves the right to modify withdrawal fees according to the current token price and block network situation.
Advantages and disadvantages of the 

Bilaxy

 exchange
Advantages
Support for many Tokens and Coins

: Bilaxy currently offers more than 100 trading pairs, including all the popular coins/tokens on the market today and the "junk coins."

Listing speed

: Bilaxy exchange has a faster coin listing speed than some other exchanges

Has its own coin:

 Compared to some other exchanges, Bilaxy exchange has issued its own exchange token in its ecosystem. Bilaxy Token.

No deposit fee

:

 

Users absolutely do not need to pay fees when loading any coins into Bilaxy.

Suitable security

: Bilaxy exchange supports users with three quite popular security features today, 2FA, phone verification, and trading password.

Fast deposit and withdrawal speed

: It takes about 15 minutes to deposit money into Bilaxy exchange successfully; the withdrawal time is similar.

Friendly interface, easy to use

: Bilaxy exchange is user-friendly for new users; it doesn't have many complicated features.

App development

: There are mobile applications on both Android and iOS operating systems

Bilaxy Hub

: A place to promote and advertise Blockchain assets. You will be able to buy digital assets at a discount.

Support 24/7

: Bilaxy has good user support; you can get help from Bilaxy via Telegram, Email, stickers, etc.
Cons
There is no information about the company and the team behind it, so it leads to trust. Investors' information is declining.

Margin transactions are

not supported Not yet Vietnamese but only English and Chinese not supported

No transactions with Fiat such as VND, USD

Liquidity is still low.
Instructions on how to register and trade on Bilaxy exchange
How to register and verify an account
Step 1: To create a new account on Bilaxy exchange, you access here https://bilaxy.com/ and enter all the following information:
Email: Enter your email address. you

Set Login password: Enter password

Repeat Login password: Enter the password on

the Image code: Enter code right

Email Verify code: Click on 

"send."
Tick "I agree …"
Step 2: Bilaxy will send you a 6-digit code via email below; go to the email to get this code and enter it in the "Email Verify code" box above and select "Sign Up."
Step 3: After clicking "Sign up," Bilaxy asks everyone to verify the identity of the account.
Account verification includes two stages:
KYC1:
Select International and fill in passport information, including full name and ID on Passport. Then click "Confirm."
KYC2:
In the Selfie With Photo ID and Note section, you need to take a photo of your face with your Passport and a sheet of paper with the words Bilaxy + current date.
In the Passport Personal Page section, upload the inside of your Passport
Finally, in the Passport Cover section, you can upload the front cover of your Passport
Note: The photo must be clear of the face, and the information can be read easily.
After the upload is complete, you need to recheck the information for accuracy and press "Confirm."
How to install 2FA
Before proceeding with 2FA security settings, you need to download the Google Authenticator app on your phone.
Step 1: Select "Account" > "Security"
Step 2: Under "Google Authentication," select "Open. "
Step 3:Appear link to download the Google Authenticator app; if you downloaded and then clicked the "Next Step"
Step 4:Open the Google Authenticator app on your phone to scan barcodes and then select the "Next Step"
Step 5: Back up the backup code; this will be the 2FA recovery code if you lose your phone. When done, select "Next Step."
Step 6: Enter the following information:
Login Password: Enter your login password

Email verify code: Click 

"Send"

 and then go to the email to get the code to enter next to

Google Authentication: Enter the 2FA code
Finally, select "Enable Google Authentication" is to complete 2FA authentication.
How to deposit money into Bilaxy exchange
Step 1: On the personal page, select "Funds." Then click on "Deposit," select "Select Deposit Coin."
Step 2: Select the coin you want to top up. You will see the coins appear, select BTC and immediately see the BTC wallet address on the Bilaxy exchange.
Step 3: Users purchase BTC from other exchanges by copying the line of selling coins on another exchange and passing it through their BTC wallet address on the exchange. When you see the word "Success" the deposit has been successful.
How to withdraw money on Bilaxy exchange
Step 1: Log in to your account on Bilaxy exchange. Select Funds, then select "Withdrawals."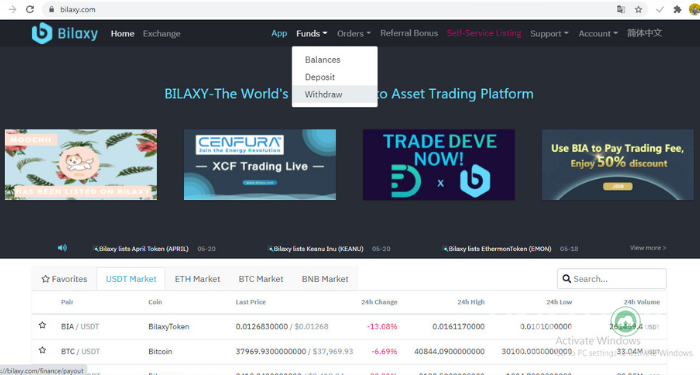 Step 2: Select the item "Select Withdrawal Coin"; that is, you choose the coin you want. You choose BTC. Then in the "BTC Withdraw Address" section, you will click on "Select" and select "Add" to add your withdrawal wallet address.
Step 3: Enter the information in the wallet address field "BTC Withdraw Address" as required by the exchange
Step 4: Continue to enter the withdrawal information of the BTC address as follows: Newly added wallet address, the desired amount of BTC Withdrawal, trading password, email code, 2FA code, withdrawal fee, and then select "Confirm" to finish.
It takes 15-30 minutes for users to make a withdrawal. You will track your withdrawal process in the "Withdraw Records" section when the word "Success" is completed.
Instructions on how to trade on Bilaxy exchange
Step 1: Log in to your Galaxy account. Select "Exchange"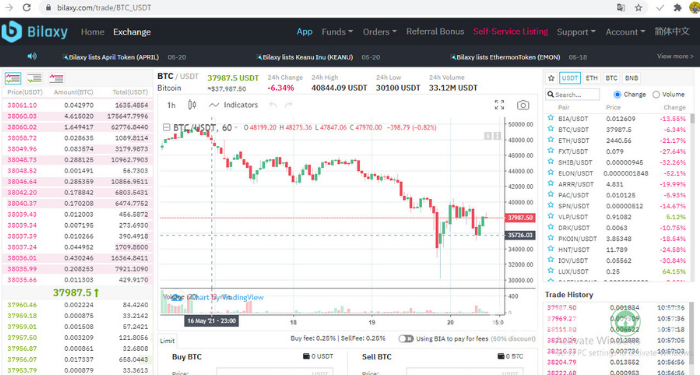 Step 2: You proceed to select the coin/token pair you want to trade, for example, BIA/BTC
Step 3: You will have to fill in the trading information required by the exchange. In which:
Buy BIA: Enter the price of BIA you want to buy, the amount of BIA you wish to buy, the total amount of BTC you have to check when buying a coin/token, and then select BUY BIA. You continue to enter the trading password and then click Confirm to complete.
Sell ​​BIA: If you want to sell BIA, select Sell BIA and then fill in the required information, including the number of BIAs you currently have, the price of BIA you want to sell, the amount of BIA you want to sell, the amount of BTC you receive after selling BEER. Fill in the information, click Sell BIA to sell.
Time to execute trading orders, players must wait at least 15-30 minutes for the transaction to complete.
Above is the article about "What is Bilaxy exchange? Guide to trading on Bilaxy exchange". You can refer to choose for yourself the most suitable trading platform among many exchanges on the market today. Follow Kienthuccoin to update the latest information about this market.
Frequently asked questions about today's popular centralized cryptocurrency exchange Bilaxy
What is Maker and Taker?
Maker: If you place a buy/sell order without immediate execution, meaning the price is higher than the exchange price when selling and lower than when buying, then your order will be displayed on the "Order Book" section, then you will be a Maker.
Taker: If you place an immediate buy/sell order, that is, the price you place is equal to or greater than the exchange price when buying, lower than the exchange price when selling, then you will be a Taker.
How to contact the Bilaxy exchange?
Galaxy allows users to contact the exchange in different ways. Including the item:
Support: Click on this item and fill in the information you need to ask in the section Submit a request.

Email: You click on the email item to send email to the exchange.

Twitter: This is a communication channel where you can easily contact the Bilaxy exchange.

Telegram: This channel allows users to conduct a live chat with the exchange.
Bilaxy exchange scam?
If you want to know if Bilaxy exchange is a scam, up to now, Bilaxy exchange has never been attacked by hackers. However, cryptocurrency exchanges are always targeted by hackers. So in the future, whether Bilaxy will be attacked by hackers or not is something no one can predict.
As for the problem of Bilaxy exchange error, inability to withdraw money, trade, or not register, login is a very normal error, and Bilaxy will handle it within 24 hours.
Moreover, it would help if you were careful when using the Bilaxy exchange because there is no clear information about the headquarters or the company behind it. However, the origin of an exchange is not a big deal to judge whether it is a scam or not.